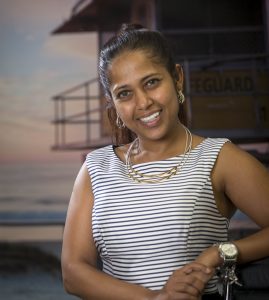 Tara is a recent participant of BUSY Sisters mentoring program and is a new, mature age Apprentice completing a Certificate III in Electrotechnology (Electrician) and a Certificate III in Instrumentation and Control. Previously working as an events manager and in hotel management, Tara also had I.T skills and decided to change careers due to uncertainty in employment.  She was looking for more independent, self-employment through gaining a trade and her previous I.T and computer skills inspired her to take on a trade as an electrician.
Describing herself as a logical thinker, an important quality for someone undertaking electrical work, Tara (who is 43 and resides on the Gold Coast) is an excellent example for women of any age who are considering entering a trade.
"When I was younger I always wanted to be an Events Manager, which I ended up doing for 15 years. However, I soon got bored with the corporate environment and started rethinking. I've always been good with spatial skills like designing, architecture and creating, and I am a logical thinker.
"The most rewarding part of this career is learning new things but yeah, some days have their challenges and I ask myself why?, Tara laughed.
"I'm a bit older so I'm not really intimidated by the male environment. For other women considering entering a male-dominated industry, I'd remind them that 'nothing can stop you' and to always think about your end goal. My end goal is independence through one day running my own business.
"Having a female mentor through the BUSY Sisters has been good and I have just signed up to this program. It never hurts to talk to another woman who has experienced what you are going through," Tara further stated.
BUSY Sisters is a new initiative funded by the Australian Government to support women entering non-traditional roles and is playing its part in bridging this gap by providing a mentoring support service for newly entering apprentices in non-traditional roles. Mentoring is provided by female mentors who have had professional careers in non-traditional roles themselves and who understand the particular challenges that women navigating their way in a male-dominated workforce may confront. The program offers six months of support with weekly catch-ups and access to helpful informational resources, along with a supportive network of other women starting out in non-traditional trades.
If you are a woman about to enter a non-traditional trade and would like mentoring support through BUSY Sisters, you can find out more at www.busysisters.com.au